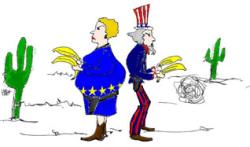 After more than 16 years of at times heated debate, an agreement has finally been concluded between the European Union and Latin American banana suppliers regarding the EU trading regime for fresh dessert bananas.

According to the agreement, the EU will cut import tariffs for banana producers in Latin America from the current 176 euros per tonne to 148 euros per tonne by the end of 2010, and to 114 euros per tonne by 2017. The deal should make Latin American producers in Brazil, Colombia, Costa Rica, Ecuador, Guatemala, Honduras, Mexico, Nicaragua, Panama, Peru and Venezuela more competitive with producers in Africa, the Caribbean and the Pacific (ACP), who pay no tariff.
The Geneva-based International Centre for Trade and Sustainable Development predicts that the deal will cause banana prices to fall by up to 12% by 2016, which could have a huge impact on small producers in ACP countries. Banana imports to Europe from ACP countries could decline by up to 14% over the next 7 years. A compensation package for ACP countries, worth 200 million euros, is included in the deal to help farmers become more competitive and offset some of the negative impact on their livelihoods.
The so-called "banana wars" began in 1993 when the EU first imposed tariffs on banana imports from non-ACP countries, but the origins of the trade dispute go back to European colonialism. In 1975, ACP countries – many of which are former colonies – were given a generous import quota as a support to their economies. However, Latin American banana producers, together with the US, have long complained that the system is unfair – a view supported by the World Trade Organization.
For more information, the WTO presents a chronological overview of the trade dispute and BBC News has a Q&A on the banana wars.