Pesticide-reducing practices
---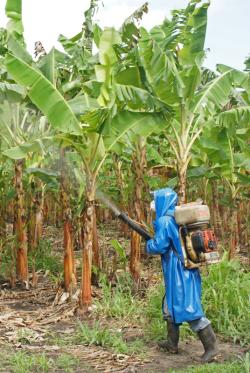 Growers producing bananas for the international trade are intensive users of pesticides. However, concerns over their impact on the environment and workers' health, not to mention economic considerations – pesticides can represent as much as 35% of production costs – have been driving efforts to reduce their use and adopt more sustainable crop protection practices. The objective of this portal is to document practices to help growers reduce pesticide use. The cultivar diversity portal also lists, under Improved materials, a number of cultivars that have been improved to be resistant to pests and diseases.
You can help develop this portal by contributing to one of the existing practices or by proposing new ones. If you are not already a registered user, you will need to register in order to be able to edit or create pages. To submit documents or propose practices, send an email to musapedia@promusa.org.
This portal is also available in French and Spanish.
This portal was initiated by a grant from the Ministère français de l'agriculture, de l'agroalimentaire et de la forêt to the World Banana Forum.

White