Pome subgroup
---
Pome subgroup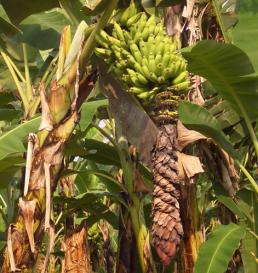 Ploidy level
3x
Genome group
Subgroup
Pome
Cultivars
The Pome subgroup (genome group AAB) comprises cultivars whose fruit have a sub-acid and apple-like taste. They are often refered to as apple bananas, thereby confusing them with Silk bananas, which are the more widely recognized apple bananas.
Pome cultivars are common in India and Brazil (where the subgroup is known as Prata). In Australia, the Pome cultivar 'Pacha Nadan' is marketed under the name Lady Finger1 .
Main characteristics
The fruit bunch develops at an angle while the rachis points vertically down. The fruit apex is often bottlenecked.
References
1
Moore, N.Y., Pegg, K.G., Smith, L., Langdon, P.W., Bentley, S. and Smith, M.K. 2001. Fusarium wilt of banana in Australia. p.64-75. In: Molina, A.B., Nik Masdek, N.H. and Liew, K.W. (eds.). Proceedings of International Workshop on the Banana Fusarium Wilt Disease, Genting Highlands Resort (MYS), 1999/10/18-20. Banana Fusarium wilt management: Towards sustainable cultivation. INIBAP, Los Baños (PHL).
Further reading