Consortium for Improving Agriculture-based Livelihoods in Central Africa (CIALCA)
---
CIALCA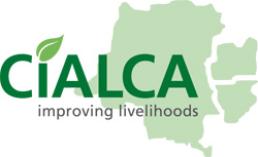 Creation
2005
Type
Consortium
Partners
Focus
Improving agriculture-based livelihoods in Central Africa
Website
The Consortium for Improving Agriculture-based Livelihoods in Central Africa (CIALCA) was established in late 2005 following the approval, by the Belgian Directorate General for Development Cooperation, of projects developed by Bioversity International, the International Center for Tropical Agriculture (CIAT) and the International Institute of Tropical Agriculture (IITA) in the Democratic Republic of the Congo, Burundi and Rwanda. Due to the complementary nature of the foreseen activities to be undertaken in a region emerging from a long period of conflict that had disrupted food production and the infrastructure underpinning agricultural development, the three CGIAR centres agreed to operate as a Consortium to avoid technical and financial duplication, provide a better return on the investment made by the DGDC and accelerate impact at the farm level.
2013 to 2020
The partnership with the Belgian government ended in 2013, after which the participating CGIAR centers and their partners were integrated into Humidtropics, a CGIAR Research Program for Integrated Systems for the Humid Tropics1 .
Between 2017 and 2020, CIALCA worked on 3 crosscutting themes: Entrepreneurial farming, ICT for agriculture and Integrated agricultural systems for nutrition.
References
External links