The small Micronesian island of Pohnpei has a rich diversity of bananas, estimated at some 50 cultivars1 . Its main claim to fame, however, is the nutritional value of the orange-fleshed bananas, many of which belong to a group of unusual bananas called Fe'i. When American nutritionist Lois Englberger moved to Pohnpei in 1997, conditions related to vitamin A deficiency (VAD) had started to emerge in children. To help alleviate the problem, brought about by the consumption of nutrient-poor imported foods, she went on a search for local foods that used to protect islanders against VAD. Acting on information that Karat bananas used to be a traditional infant food, Englberger and her colleagues found that they are rich in beta-carotene, which the body converts into vitamin A. Since then, Karat bananas have been at the forefront of campaigns led by the Island Food Community of Pohnpei (IFCP).
---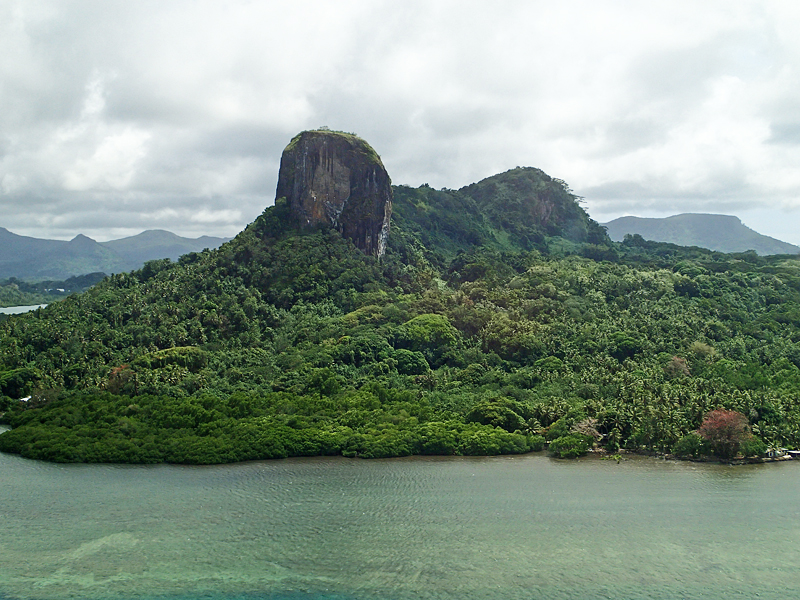 The rich soil and humid forests of Pohnpei Island, in the Federated States of Micronesia, provide the ideal setting for the agroforestry system in which bananas are traditionally cultivated. (Photo by A. Vezina)
---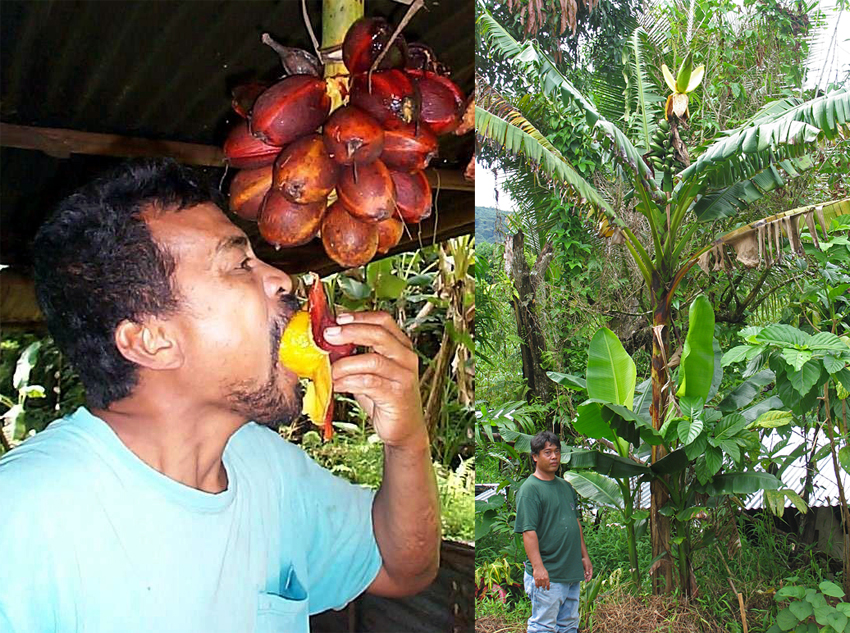 Karat bananas belong to a group of bananas called Fe'i (or Fehi). Domesticated in the Pacific region and introduced early in Pohnpei, Fe'i bananas are easily recognized by their erect bunch. (Photos by L. Englberger (left) and J. Daniells)
---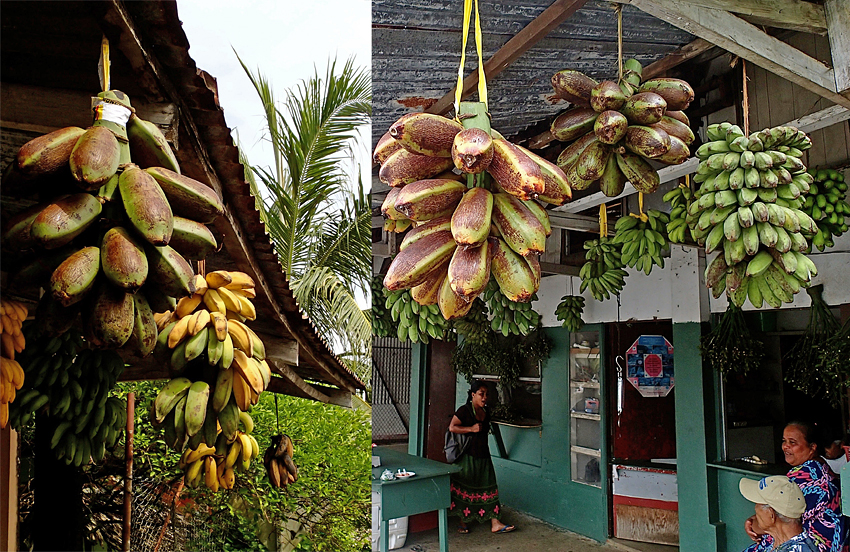 Prior to 1998, you couldn't buy Karat bananas in the markets of Kolonia, the capital of the Pohnpei State. Nowadays, the three types grown on the island can be found alongside the other bananas. (Photos by A. Vezina)
---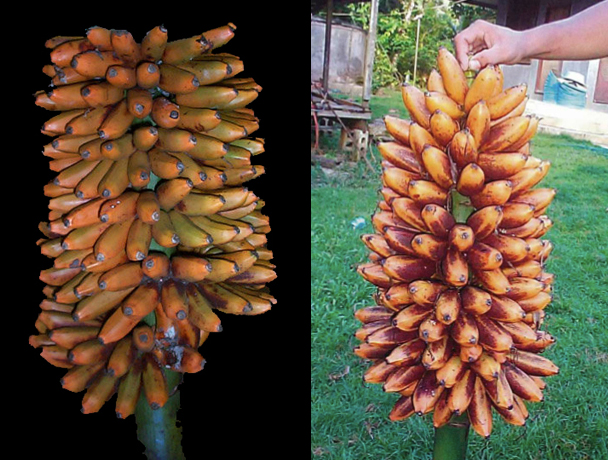 Two other Fe'i bananas, Utin Mwas (left) and Utin Iap, have higher levels of vitamin A precursors than Karat bananas, but are rarely seen in markets.(Photos by L. Englberger)
---
Utin Menihle, a Silk type, is a popular dessert banana. Bananas are often hung outside houses to welcome visitors. (Photo by A. Vezina)
---
The other types of bananas grown on the island include Utin Ruk (right), a popular Saba cultivar, Mangat (middle), a generic name used for Plantain and Plantain-like cultivars, and Kapakap (left), a rare Saba cultivar known elsewhere as Praying Hands. (Photos by A. Vezina)
---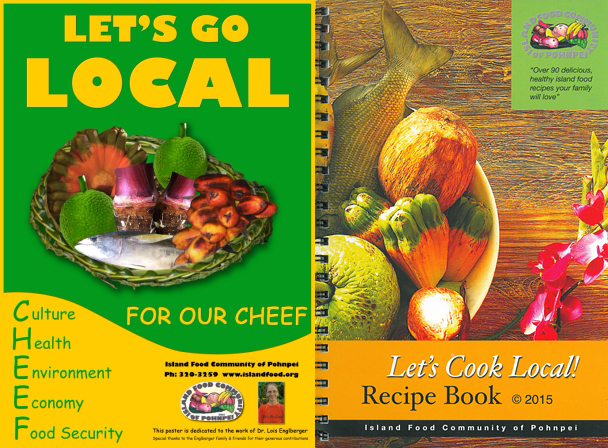 Since 2004, the Island Food Community of Pohnpei (IFCP) has been actively promoting local food for their CHEEF benefits: culture, health, environment, economics and food security.
---
The Federated States of Micronesia postal service has issued two series of commemorative stamps featuring carotenoid-rich bananas.
---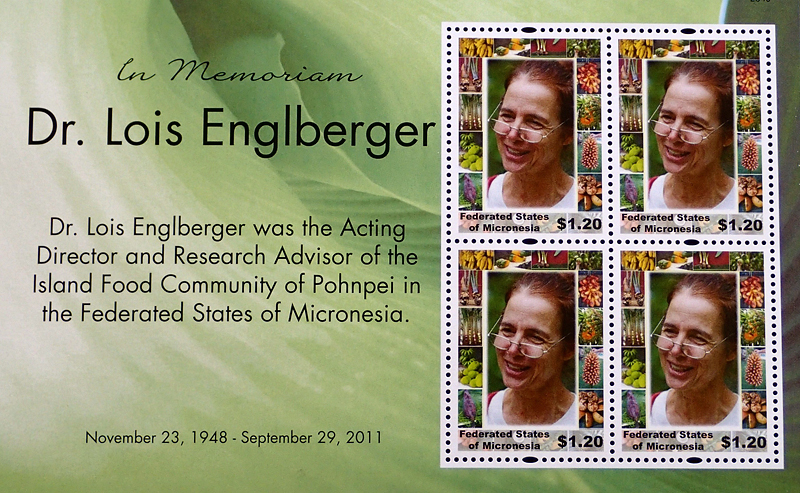 After the untimely death of Lois Englberger in 2011, the State of Pohnpei held a Memorial Service to honour her leadership in promoting local food and issued stamps in her memory.
---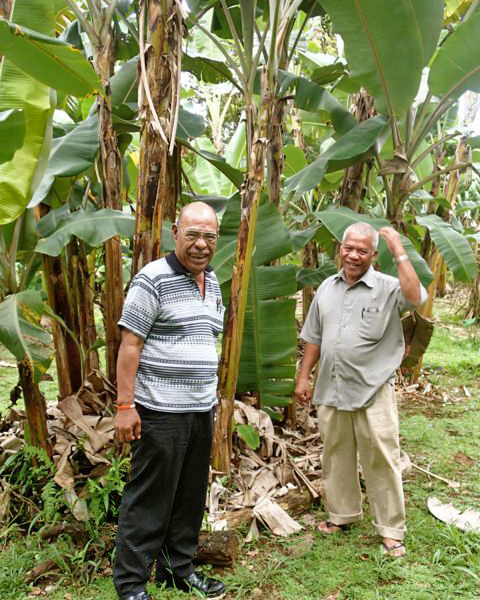 One of Lois' legacies is the IFCP, which she co-founded with Pohnpei State Agriculture Chief Adelino Lorens (right). She was replaced at the helm of the IFCP by Rainer Jimmy (left). (Photo by A. Vezina)