The banana community lost two beloved members, Mgenzi Byabachwezi and Ramon Valmayor. They will be missed by the people who were lucky enough to cross path with them, as well as by those who were hoping to have the same chance one day.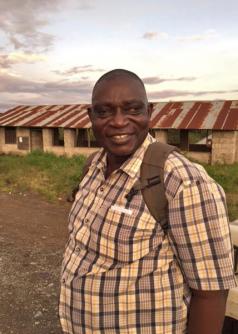 In Tanzania's Kagera region, Byabachwezi was seen as a hero, a selfless man working for the betterment of the poor. Bioversity International scientist Eldad Karamura recalls his energy and humour. "Mgenzi made every task look easy and enjoyable."
Scientists conducting projects in the region, starting with the large-scale distribution of high-yielding and disease-resistant improved hybrids launched in 19961 , praise his networking skills (see My brother Mgenzi by Rony Swennen below). An ability he also deployed as one of the site coordinators for the Breeding Better Bananas' on-going multi-location evaluation of NARITA hybrids, says Bioversity International scientist Inge Van den Bergh. "His knowledge of banana production systems and his unmatched skills to work with the local communities have been crucial in the successful execution of an extensive baseline study that will continue to inform banana breeding efforts for many years to come."
Mgenzi Said Ramadhan Byabachwezi graduated with a BSc from Sokoine University in Tanzania  in 1991. His educational journey also took him to Wageningen University in the Netherlands, where he did an MSc in Ecological Agriculture. His first job was as an Agricultural Tutor at MATI Nyegezi from 1982 to 1991. The next year he was promoted to Agricultural Research Officer III and transferred to ARI Maruku, where he worked till his death. In 1999 he was named the head of the Banana Department. He was also the Liaison Officer for all matters connected to collaborative research with the other institutes in Tanzania.
His health took a turn for the worse in May 2016. After returning from a trip in the Mbeya region, where he had participated in a baseline survey, he started complaining of servere pain in his legs, limbs and eventually his whole body. He died at the hospital on March 6 and was buried a few days later in the village of his birth, Katoma in Bukoba District.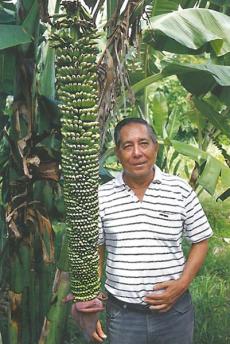 Ramon Valmayor will be mainly remembered for his extensive knowledge of the banana in all its diversity. A formative experience was working with the American botanist Paul H. Allen when the latter spent 8 months in the Philippines to collect banana plant material for the United Fruit Company (which later became Chiquita). Between 1959 and 1961, Allen led a series of expeditions in Southeast Asia and the Western Pacific to collect material for the breeders tasked with developing improved hybrids. Some of the bananas that were later introduced in Kagera (the FHIAs) were developed by these breeders and released after the field collection and breeding progamme was donated to the Honduran government in 1984.
Valmayor's work on the taxonomy of wild and cultivated bananas earned him great notoriety in the banana community. Early on, he argued for the creation of a BBB genome group for 'Saba' and related types because they scored nearly as high as Musa balbisiana when the system used to classify cultivars was applied to them. He published numerous papers on the taxonomy of wild banana species and the classification of cultivars. His scientific legacy was consolidated with the publication in 2002 of The wild and cultivated bananas of the Philippines, a richly illustrated monograph that he penned with two colleagues.
The people who knew him describe him as kind, wise, enthusiastic and keen to promote young talents. He will also be remembered as one of the pillars of INIBAP. In 1991, Valmayor became the first regional coordinator of INIBAP's Asia-Pacific network, then called ASPNET. He retired in 1997.
Before joining INIBAP, he had held senior management positions in the government, including Executive Director of the Philippine Council for Agriculture, Forestry and Natural Resources and Development (PCARRD). He has also been a professor of Horticulture at the University of the Philippines in Los Baños.
After graduating with a BSc from the University of the Philippines, he continued his studies in the United States, where he obtained an MSc from Cornell University and a PhD from the University of Florida.
Ramon V. Valmayor passed away on April 14. He was 85 years old.
My brother Mgenzi
by Rony Swennen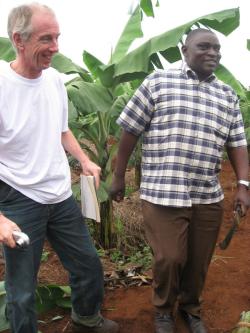 It took me two days to recover from the news that Mgenzi had passed away. I felt like a fish out of the water. It was as if I had been kicked in the stomach time and time again.
I am a workaholic. I rarely take time for things other than work. Mgenzi was one of the few people with whom I skyped just to talk about life and family. I felt relaxed with him. He was like a brother to me.
I first met Mgenzi more than 25 years ago during my first visit to Kagera as part of a Belgian-funded project introducing disease-resistant and high-yielding varieties of banana to farmers. The project was a great success, thanks to the contributions of a large number of people. But before anyone else, I would give the credit to Alliy Mbwana, Alain Gallez and my brother Mgenzi.
I loved travelling with Mgenzi. In the car we talked about all sorts of things. Bananas, of course, but also about life in Africa. We would stop for what he called the "pressure of nature". When we arrived at a remote place in the evening, he would ask to put on the grill a leg of goat that we would later eat with plantain or fried banana. His favourite drink after a good meal was 'cognaki' (cognac).
He also loved football. Sometimes we would stop working in the middle of the afternoon to watch a game. We would make up the time by working late into the evening and sometimes into the weekend.
Mgenzi taught me so many things about farming. Nobody knows how to grow bananas as well as him. In fact, there's nothing he couldn't do. He was a scientist, teacher, diplomate, networker and much more. He knew how to work with farmers and government employees alike and was an inspiration to everyone he met, all the way up to the governor. His impact is not only measured in the number of farmers he reached, more than 500,000 as part of the Kagera project. He also helped them produce bunches of bananas that tip the scale at more than 100 kg.
My brother Mgenzi, we all weep at your departure. In Kagera, even the leaves of the banana plants are drooping like never before. You will not be forgotten. In my mind you have not passed away. You just left early for a place where we will meet again.