Kenneth Shepherd
---
Musa Hall of Fame
Kenneth Shepherd
1927-20011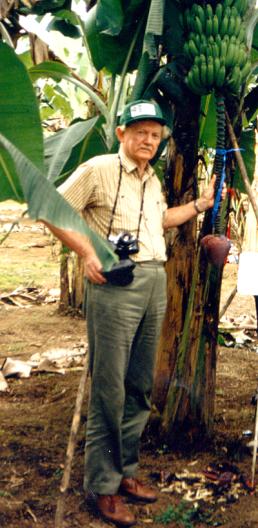 Nationality
British
Expertise
Cytogenetics and breeding
Alma mater
Durham University, England
Institutions
Imperial College of Tropical Agriculture (1950-1960)
Jamaican Banana Board (1960-1980)
Embrapa (1981-2001)
The Musa Hall of Fame
Kenneth Shepherd was a British researcher who made important contributions to the cytogenetics, improvement and taxonomy of bananas. 
Early life and education
Kenneth Shepherd was born in England in 1927. He studied agriculture and botany at Durham University, England, graduating in 1947.
Career in bananas
At the beginning of his career Shepherd worked for two years on the genus Solanum, after which he dedicated the rest of his career to the banana. In 1950, the 22-year-old scientist joined the banana breeding programme at the Imperial College of Tropical Agriculture. He arrived in Trinidad, appropriately enough, on a banana boat1 . During his stay in Trinidad, he worked with Norman Simmonds with whom he co-authored the seminal 1955 paper on the taxonomy and origin of cultivated bananas that became the foundation for a new nomenclature system for banana cultivars.
From 1960 to 1980, he worked at the Jamaican Banana Board's breeding programme, where he created several hybrids, including M53. The latter was then added to the Embrapa genebank and was the origin of the variety 'Pacovan Ken'. He also helped develop other hybrids such as 'Calypso', 'Bucanier' and "Ambrosia'. From December 1981 onwards, he worked as a consultant with Embrapa, where he set up a breeding programme. He played a vital role, especially with regards to the introduction of genetic material from other countries, a complex, difficult task that was only possible because of his contacts and his credibility in the Musa community.
Although Shepherd published more than 50 books, much of his work has remained unpublished. Some of his work on cytogenetics was published in 1999 by INIBAP as Cytogenetics of the genus Musa.
He died in Portugal at the age of 74, just before the release of 'Pacovan Ken'.
References