Musapedia
The banana knowledge compendium
---
Featured page - Tropical race 4 (TR4)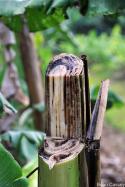 Tropical race 4 (
TR4
) is the name of the fungal strain that causes
Fusarium wilt
in
Cavendish bananas
. It emerged in southeast Asia and spread to the Middle East,  Mozambique in Africa and Colombia in the Americas. In 2019, a taxonomic revision included TR4 as part of a new species,
Fusarium odoratissimum
.
How well do you know the banana?
How was the banana domesticated?
What is the scientific name of the banana?
Which group of bananas is rich in precursors of vitamin A?
What is a banana mat?
Which country is the largest producer of bananas?
Which part of the banana plant is called sucker?
What is the natural range of wild bananas?
What is a checklist of banana cultivars?
Are Plantains a type of banana?
How do scientists classify banana cultivars?
Most popular page - The morphology of the banana plant
The banana is a tree-like perennial herb. It is an herb because the fruit-bearing stem dies down after the growing season. It is a perennial because
suckers
, shoots arising from lateral buds on the
rhizome
, take over and develop into fruit-bearing stems. What looks like a trunk is in fact a
pseudostem
formed by tightly packed leaf sheaths.
Featured image
Musa acuminata ssp. banksii is one of the wild bananas whose genetic signature is found in edible bananas, especially those from the New Guinea area.