India
---
India at a glance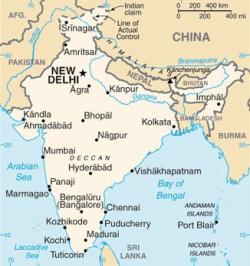 1.31 billion
2.1 trillion US$
17.4% of GDP
297 million hectares
179.8 million hectares
796,000 hectares
27.5 million metric tonnes
India is the largest producer of bananas. It produces more bananas in a year than the rest of the world produces for export. Most of the bananas grown in India are for the domestic market. Even though more than half of the bananas produced in India are Cavendish cultivars, the country is host to a wide diversity of bananas.
Banana-producing areas
The major banana growing states are in the northeastern and southern parts of the country. Tamil Nadu has the largest area followed by Maharashtra and Karnataka. Tamil Nadu also ranks first in production, followed by Maharashtra, but the highest productivity is recorded in Maharashtra, followed by Tamil Nadu and Madhya Pradesh. Maharashtra's high productivity is the result of growing in monocultures high-yielding Cavendish cultivar, coupled with the adoption of improved technologies such as high density planting and the use of tissue-culture planting material5 .
Production systems
Bananas are both grown in homestead gardens and cultivated commercially on large areas. Commercial production is largely dependant on irrigation whereas subsistence cultivation is practiced under rain-fed conditions.
More than 20 types of bananas are grown, such as Poovan, which is mostly grown in the south, Rasthali, Nendran, Karpuravalli, Kunnan, Ney Poovan, Thella Chakkara Keli and Monthan. Pisang Awak has been adopted in the marginal lands of Bihar, West Bengal, and in the northeastern states5 .
Pests and diseases
Fusarium wilt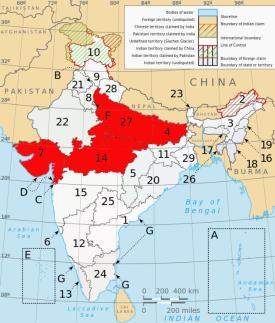 Tropical race 4, which attacks Cavendish cultivars and a wide range of banana types, has been present in the Katihar and Purnea districts of Bihar since at least 2015 and has since spread  to the states of Uttar Pradesh, Madhya Pradesh and Gujarat 6 . Its presence was officially confirmed in 2018, based on isolates collected in 2017 in Uttar Pradesh7 .
Post-harvest
Post-harvest losses are estimated to be 8-9% at farmer's level, 20-25% at wholeseller's level and 15% at retailer's level4 .
Processing
Banana can be processed into different value-added products. Banana puree is used in dairy products, bakery, beverage and baby food. Banana flour is increasingly used in foods like chapathies and bread.
Plantains are usually processed into chips and the peel can be used in pickles. The male bud can also be pickled. The process has been transferred to several entrepreneurs for commercialization.
References
5
●
●
Singh, H.P. 2009. Country Paper on Banana in India in: Molina, A.B., Baroña, M.L.J., Sinohin, V.G.O. and Generoso, J.D., editors. Advancing Banana and Plantain R&D in Asia and The Pacific: Proceedings of the 6th BAPNET Steering Committee meeting in Tiruchirapalli, Tamil Nadu, India 22-25 October 2008. pp. 38-58.
See also on this website
BAPNET
- Banana Asia-Pacific Network
Musapedia pages on banana-producing countries: